Prices of Dar Rita, Prices Hotel in Ouarzazate
Dar Rita offers 7 fully equipped rooms with all the necessary accommodation amenities such as private bathroom and shower, air conditioner and heater, service table, sofa and traditional Moroccan decoration mixed with a blend of modern touch and ethnic ambiance.
Prices of Riad – Bed and Breakfast
SINGLE ROOM B&B (1 pers 1 bed): 45€ or 495DH
DOUBLE ROOM B&B (2 pers 1 bed): 60€ or 660DH
TWIN ROOM B&B (2 pers 2 beds): 60€ or 660DH
TRIPLE ROOM B&B (3 pers 3 beds or 3 pers 2 beds): 85€ or 935DH
HOUSE IN EXCLUSIVITY B&B (up to 16 pers / 7 rooms): 450€ or 4950DH
TRANSFER OUARZAZATE AIRPORT (1 to 6 pers): 18€ or 200DH
DINNER (1 person full meny): 15€ or 165DH
Dar Rita's Trip Advisor Reviews
Prices of Riad Dar Rita include
Welcoming snack and homemade mint tea; Local pastry and dried fruits; Breakfast; Room with private bathroom; 1 bottle of mineral water in room; Room cleaning every morning; Check-in begins 1pm (time you can get a room); Check-out finishes 11am (time you have to deliver your room); Breakfast open until 10am.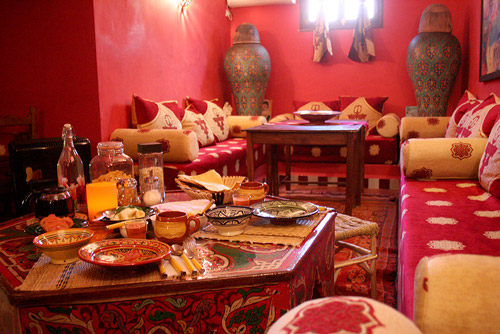 Breakfast at Dar Rita in Ouarzazate
Special bookings – BIG GROUPS
Dar Rita is available to accommodate and host big groups such as cinema production groups, various events, car rallys, 4X4 groups or motorcycle groups. We can accommodate up to 23 people in 7 rooms. We have 1 room with 4 single beds; 4 rooms with 1 double bed + 1 single bed; and 1 room with 1 double bed + 2 single beds. For further information please Contact us.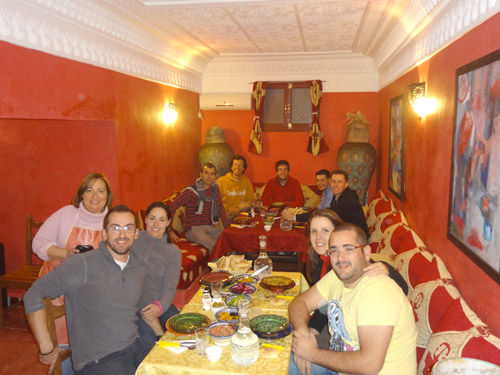 The name of Dar Rita's rooms are chosen after the name of 7 historical cities in Morocco spread around the Atlantic Coast. Room Mazagão, Room Arzila, Room Alcácer-Ceguer, Room Aguz, Room Safim, Room Mogador and Room Azamor offer great comfort.
Renting the whole house in Ouarzazate is possible, and you can fit up to 17 people spread around all the rooms. This is ideal for larger groups that wish to have their own privacy within the same space escaping a bigger hotel in Ouarzazate and have a rest on Dar Rita's private atmosphere.