Guest House in Ouarzazate • Dar Rita
Dar Rita welcomes you to Ouarzazate. This 7 room Bed & Breakfast inside the old district of Tassoumaat will take you to visit the real traditional life of south Morocco.
Dar Rita is European owned Hotel and offers you the mix of great comfort and a traditional decorated house in the heart of the old medina of Tassoumaat in Ouarzazate.
Mr. João – Dar Rita's owner and manager welcomes you to Ouarzazate and enjoy staying in a real house, where you will feel like home. Take your shoes out, explore the house.
Dar Rita is a project started by Rita Leitão and Joao Leitão in August 2010, with an idea of offering an non-existing product in the city of Ouarzazate: a Guest House style of Riad from Marrakech. This type of Riad in Marrakech was not to be found in Ouarzazate or even around in south Morocco.
Tassoumaat district where Dar Rita is located, is a blend of Marrakech medina streets with Ouarzazate region mud houses, a fantastic blend of cultures and architecture.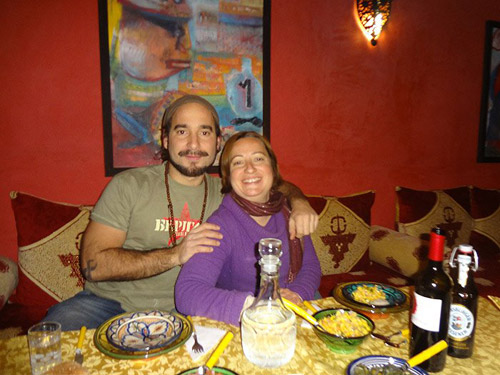 Ouarzazate Eco-Hotel environment

Dar Rita is worried about environmental issues. While many things are difficult to make an Eco Hotel in Morocco, Dar Rita makes an effort to reduce ecological impact and use alternative energies sources to power this Ouarzazate hotel.
We feel happy about this little effort of ours and are strongly engaged into changing neighborhood and local people minds toward ecology and trash deposit issues in the area.
Solar Panels: Dar Rita advises you to take in consideration that water is Earth's most precious thing and shouldn't be waisted. Although all Dar Rita's solar water heaters are powered by Solahart, we advise clients to be wise and not engage in long hot showers as it is a total waist of water and already produced eco-heated water.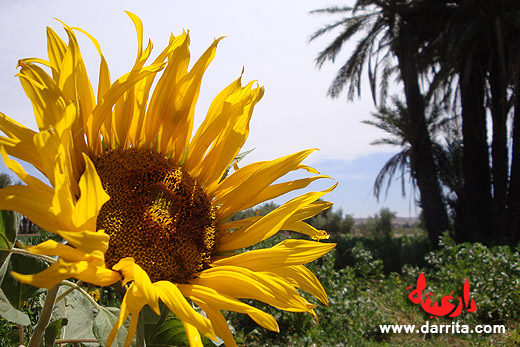 Being ecological and economical doesn't mean we can waist just because it comes from a free energy producing source – and yes water is not for free! With a solar hot water heater using the sun's natural energy we save up to 50-90% of our water heating energy consumption, reducing greenhouse gas emissions by 3 – 3.5 tonnes every year, which is the equivalent of taking a 4 cylinder car off the road.
With hot water free from the sun, Dar Rita's reduce its impact on climate change and make a positive step for future generations.
Dar Rita is a proud member of It's A Green Green World Eco friendly green hotels.
Organic compost: Dar Rita engages it self on a daily basis concern to recycle all organic compost coming from its kitchen which is used everyday to serve clients a half-board stay at this Ouarzazate Riad. Everyday Dar Rita recycles it kitchen organic trash using local natural methods of contributing to feeding neighborhood sheep and goats.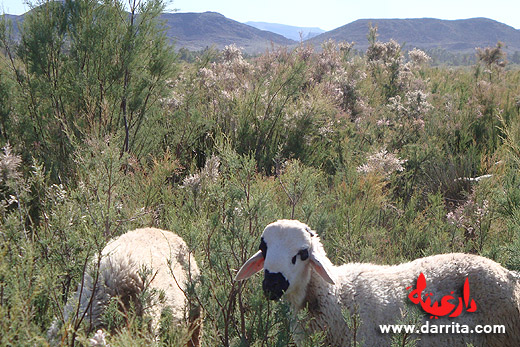 Paper recycling: Dar Rita is concerned about paper recycling. Although the paper recycling industry is non-existing in south Morocco, Dar Rita promotes the non cutting of trees and the non use of wood to light local ovens where local women bake bread every morning. All paper is totally recycle to fire local ovens in order to re-use paper waist that would eventually have no use, into energy to make bread and feed people.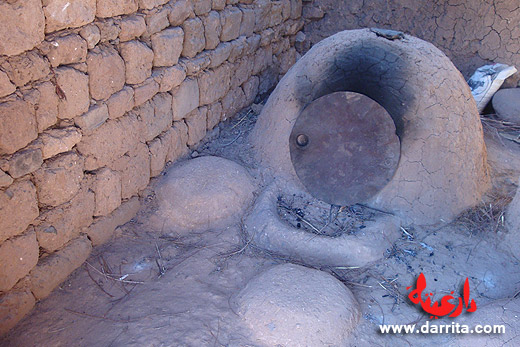 Garbage removal / collect: Dar Rita is engaged to pursuit into local activities where women and children will be taken into monthly activities to clean the neighborhood and understand that garbage is not environmental friendly nor gives a clean quality of life. Although already exists a daily garbage removal from the city of Ouarzazate, many people still persists on dumping garbage into the river. Dar Rita will create future activities to make this disappear.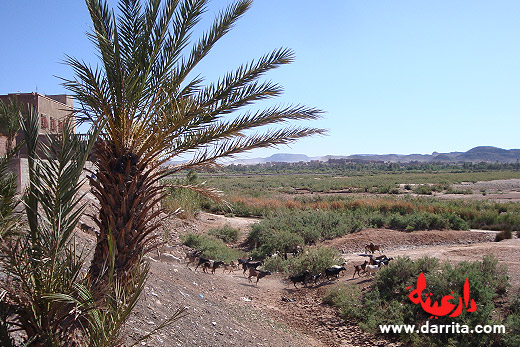 Local human development: Dar Rita will create a small local women / children's association in order to improve local people life conditions. We engage people to send us clothes, school material and clothes to smartly distributed to most need families, women and children. Yes poverty is a fact in this local Ouarzazate district of Tassoumaat and your help is precious. If you are traveling to Morocco by car / 4X4 please bring us good to be distributed in the area. If you wish to contribute on a higher level and wish to make a money donation please contact us for further details concerning this issue.