Ouarzazate is located 200km south of Marrakesh, just on the other side of the Atlas Mountains. Although Ouarzazate is called the capital of the south, it is actually a small town with around 56,000 people, so, don't expect a big and noisy city, as its name literally means "noiseless" in the local dialect.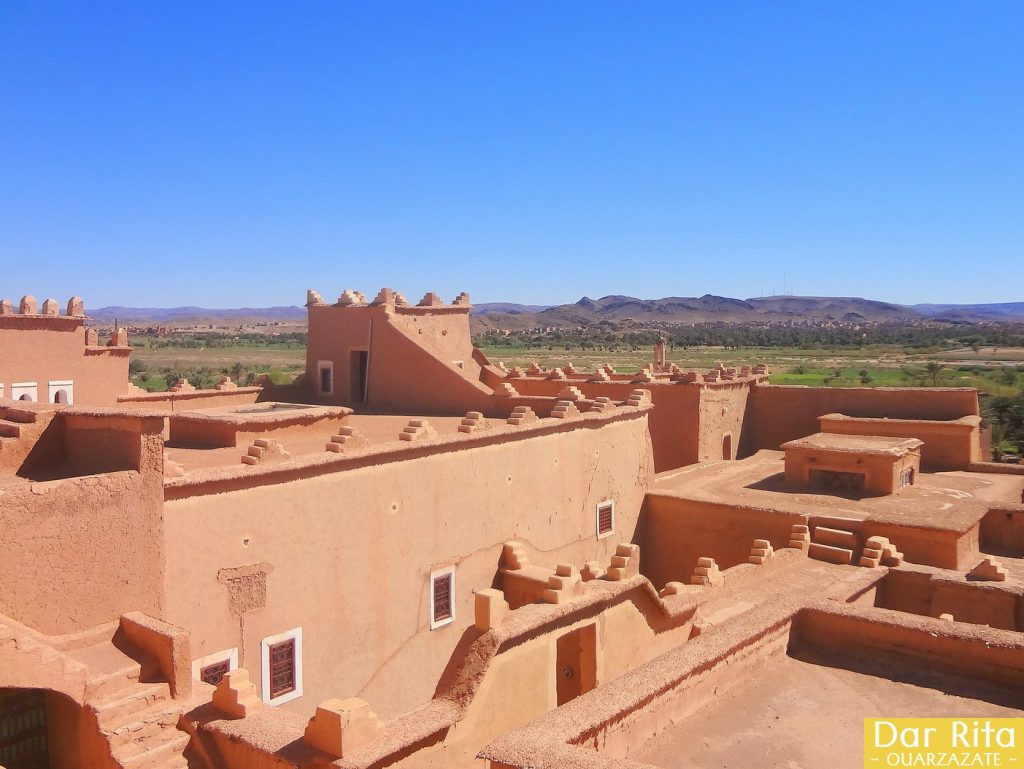 Ouarzazate is located at 1,160 meters altitude (3805 feet) and is strategically located between the mountains and the desert. Overlooking Ouarzazate you see the desert on one side and the white snowy High Atlas Mountains Peak up to 4,167 meters (13.671 feet) on the other.
Where is Dar Rita
Dar Rita is located in one of the most typical districts of Ouarzazate called Tassoumaat, precisely on the city's entrance coming from Marrakesh.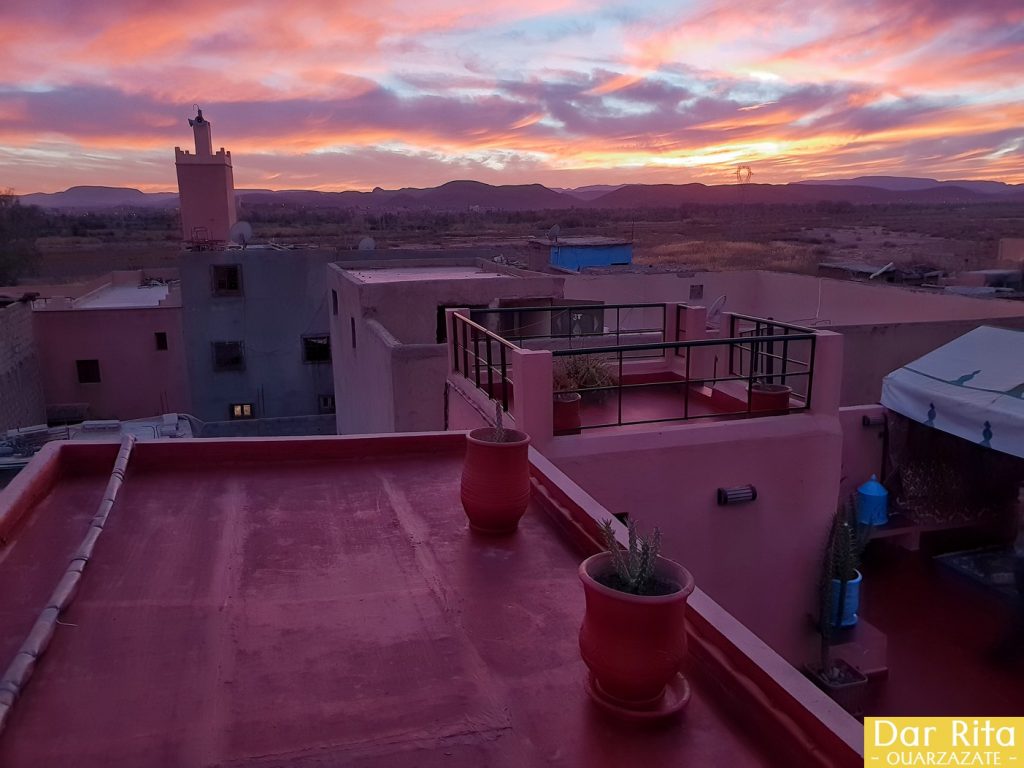 5 minutes away from Ouarzazate's town center, Tassoumaat district offers a great opportunity to discover true Moroccan living within a small community inside Ouarzazate itself.
Tassoumaat is an old typical district in Ouarzazate entrance coming from Marrakesh road. Tassoumaatis still the only untouched by tourism districts in Ouarzazate and still maintains true typical and traditional Moroccan living.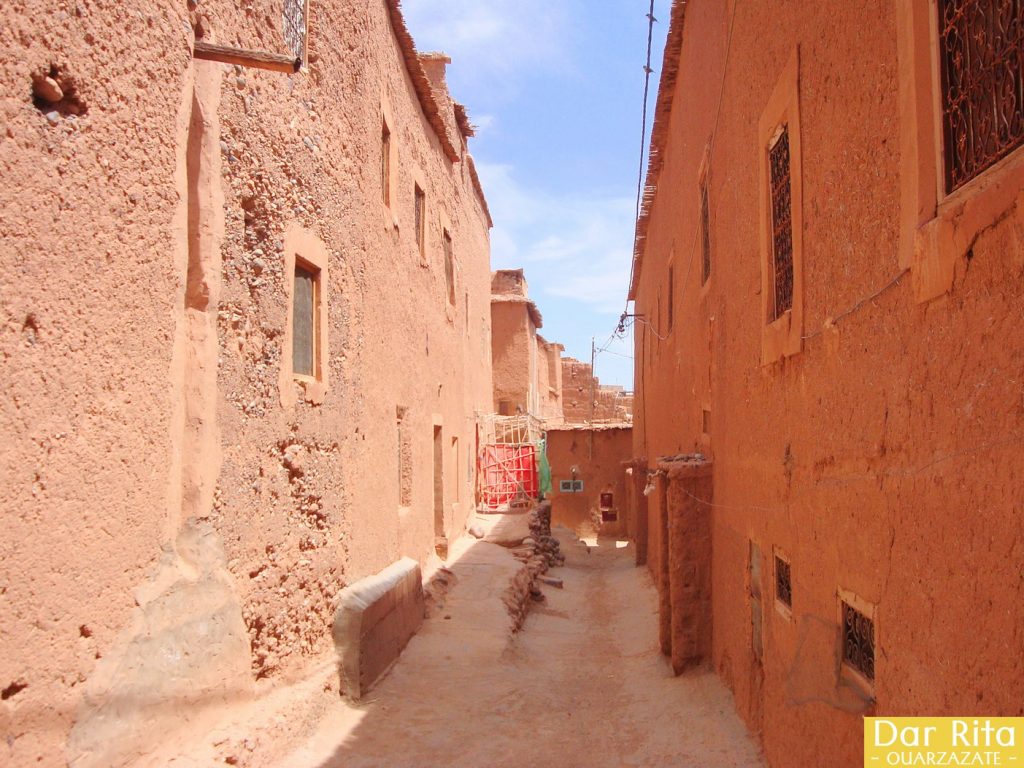 About Tassoumaat, Ouarzazate Morocco
In Tassoumaat you can enjoy tiny streets with clay buildings, the river shore with sheep herds, local children playing on the streets, local market on the little main square, community bread ovens, etc. Coming to Tassoumaat equals experiencing true Morocco.
Tassoumaat is a calm district aside Ouarzazate river bank where can enjoy local children playing on the streets, a couple of sheep serenely hanging around and women on the way to their daily bread baking on the traditional oven just across the street.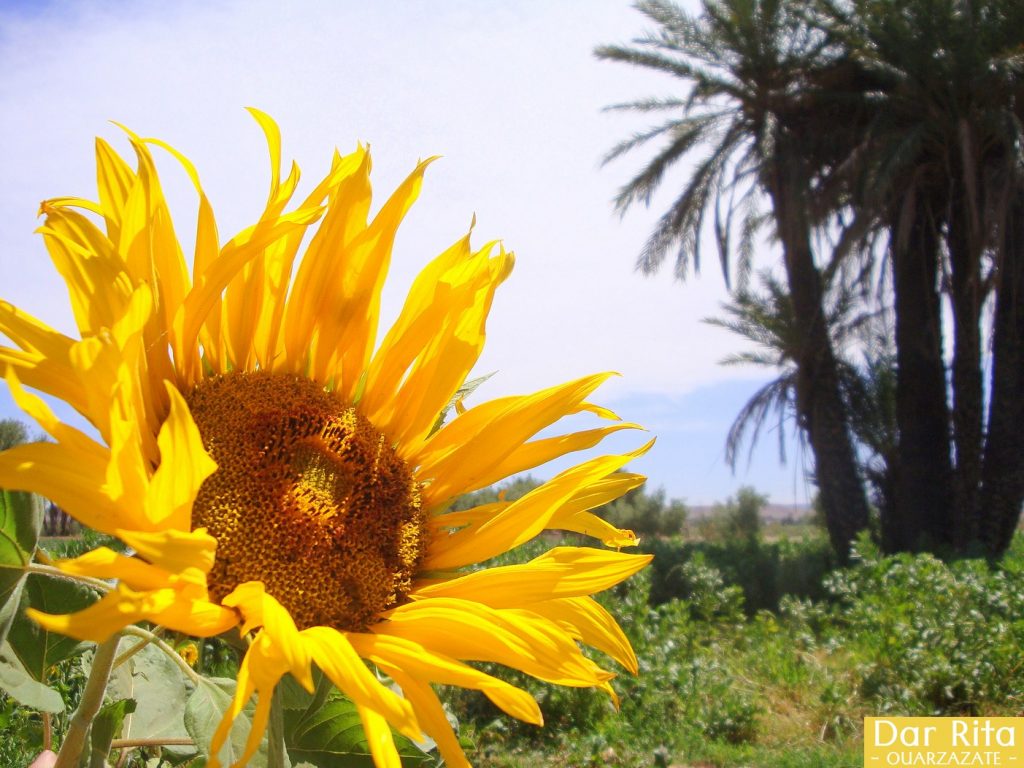 Tassoumaat is along with Taourirt, the first districts of Ouarzazate, and where you can still explore the old Medina with mud-brick buildings. Thursdays and Saturdays you can enjoy the market settled on this tiny fountain square where people from the neighborhood come to buy their groceries, clothes or just gossip about local updates and news.
Nearby from Dar Rita
Small grocery shop Chez Zinab » 90m
Sqaia Square » 70m
Post Office » 350 m
Pharmacy » 350m
Aswak Tassoumat Supermarket » 350m
Main Police Station » 400m
Bus Stop » 450m
Petrol Station Afriquia » 450m
ATM at Credit du Maroc Bank » 550m
Gare Routiere (main bus terminal) » 750m
Café Restaurant 3 Mars » 800m
Supratours Bus station » 900m
Restaurant Bahja » 900m
Fruit and Vegetables + Fish Market » 1.4km
Polyclinique Ouarzazate 24/7 by Dr. Otmani Idrissi» 1.8km
Habous Bakery and Restaurant » 1.9km
City Center near Dimitri Supermarket » 1.9km
Al-Mouahidine Square » 1.9km
Obstetric Gynecology Center by Dr. Houda Ouadghiri » 1.9km
Kasbah Taourirt » 3.4km
Cinema Studios ATLAS » 4.4km
How to Get to Dar Dar Rita
Its very simple to arrive at Dar Rita. Just go to Supratours bus office in Avenue Mohamed 5, or the Tassoumaat Police Headquarters and enter Tassoumaat district direction "zkaya" (public water tap). Then just go to the right side of the square and enter the Old Mosque street (Rue de la Mosquée / Zenka Masjid leKdima). Please see this map of Tassoumaat below with detailed instructions on how to get to Dar Rita – Riad in Ouarzazate. You can easily navigate this Google map, zoom in / zoom out and click on several pins with detailed instructions and photos of Tassoumaat district.
View How to get to Dar Rita Ouarzazate in a larger map.